Book your Iceland day trips online
Make your trip to Iceland even more special by joining us for our amazing tours!
See thundering waterfalls, bubbling hot springs, and nature scenes which are unique to Iceland.
You can experience our selection of Day Tours which allow you to explore Iceland from your home-base in Reykjavik. Explore our Multi Day Tours which allow you to cover more ground during your vacation. And you can always contact us in case you have a question.
EXCLUSIVE ONLINE OFFERS
TOP SELLING TOURS
Day Tours
The Golden Circle
Iceland´s most popular day tour. It visits Gullfoss waterfall, Geysir, Thingvellir national Park and a geothermal greenhouse.
VIEW TOUR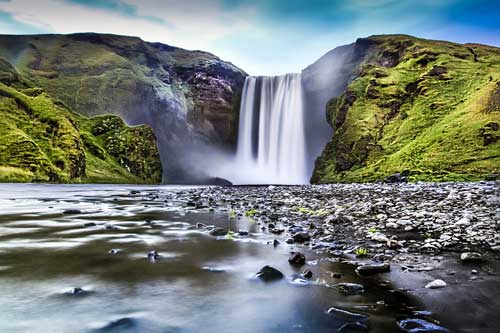 Day Tours
South Shore Adventure
A scenic day tour along the south coast of Iceland. Visiting the waterfalls Seljalandsfoss and Skógafoss and more.
VIEW TOUR
Day Tours
City Tour and Golden Circle
Grab our online offer and get two tours for the price of one: A city tour on Friday and a Golden Circle tour on Saturday! Only limited spots available!
VIEW TOUR
Recommended tours
OUR BLOG
The top 4 lesser known stops on the Snæfellsnes Peninsula
The Snæfellsnes peninsula is a treasure trove of quirky little stops mixed together with natural wonders.
READ MORE
Review us on tripadvisor:
Thank you
The terminal building at the harbour was very easy to find and we had an amazing day in Iceland. We really enjoyed the Golden Circle Tour and reached our cruise ship in time. Send our best regards to Jonas (our driver) he did a fantastic job. We learned a lot of things about the Icelandic history and culture.
‍
Katharina
July 3, 2017
Great transport service
"I'd like to say thank you for the great transport service provided by your company for the transport I booked with you. Your taxis are clean and drivers were polite and friendly.
Erwin Clark
August 14, 2016
Great service
"I would just like to say how courteous your driver was. It was the same for the pick up at the airport and the return. He was waiting for us on our arrival and was on time for the return pick up."
Jane Fowle
November 28, 2016
OUR FAVORITE PLACES IN ICELAND
SEE MORE
WHO ARE WE?
Travel Reykjavik is a portal for individual travellers operated by Snæland Travel, a family operated tour operator. It was founded over 70 years ago and has plenty of local expertise and know-how in Iceland.
OTHER SERVICES
OUR DMC SERVICE
Snæland Travel is a family operated DMC with over 70 years local expertise and know-how in Iceland. Our aim is always to send our guests home telling stories how Iceland was the experience of a lifetime, a true fairytale.
SEE MORE
PRIVATE AIRPORT SHUTTLE
Travel Reykjavík and Snæland Travel offer private transfer to/from Keflavik International Airport for travellers who value comfort, speed and value for money whether travelling for business or pleasure.
BOOK PRIVATE TRANSFER